This post is also available in:

Tiếng Việt (Vietnamese)

日本語 (Japanese)

ไทย (Thai)

Português (Portuguese (Brazil))

हिन्दी (Hindi)

Indonesia (Indonesian)

Русский (Russian)
DLive is a decentralized live streaming platform that aims to provide a fairer and more transparent way for creators to monetize their content. Founded in 2017, DLive was acquired by Rainberry, Inc.(formerly known as BitTorrent) in 2019 and now runs on the TRON blockchain. In today's article, we'll show you on how to live stream on DLive with our Live Now app.
How to Live Stream on DLive
To go live on DLive, please do the following steps.
Step 1: After logging into your account, click the Live Dashboard on the top right of the screen besides your avatar.

Step 2: Edit your Stream Information. You must enter all of these fields to set up and get your stream key.
Title: Write a title that describes your stream's content.
Language: Choose the language you'll be speaking during the live stream.
Category: As you begin typing, the system will suggest from over 1000 pre-existing categories, such as games, lifestyle, chatting, etc. Choose one or more as you like.
Age Restriction: If your content includes things that may not be appropriate for all ages, enable the age restriction filter.
Thumbnail: Upload a thumbnail for your live stream. Make sure to choose a good image to attract viewers to watch your stream.
Step 3: After editing, click Save. Then click on the Encoding Server Information which just appears.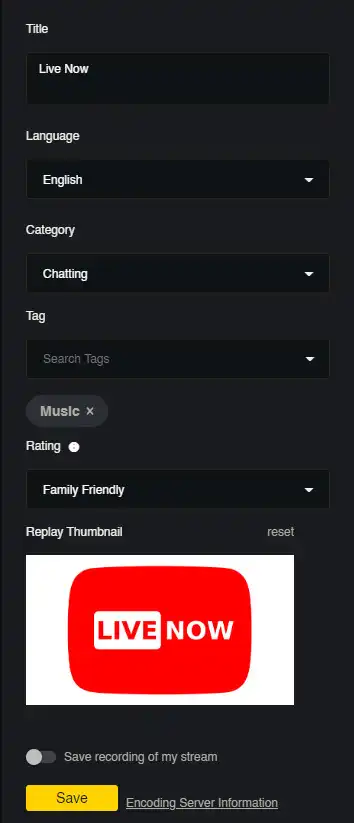 Step 4: Click Regenerate Server URL. Copy the Stream URL and Stream Key.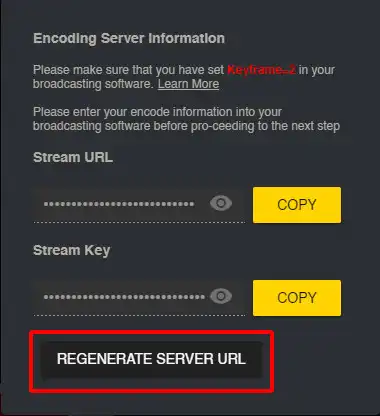 Step 5: Open Live Now app, click on the RTMP and paste the Stream URL and Stream Key into the corresponding fields.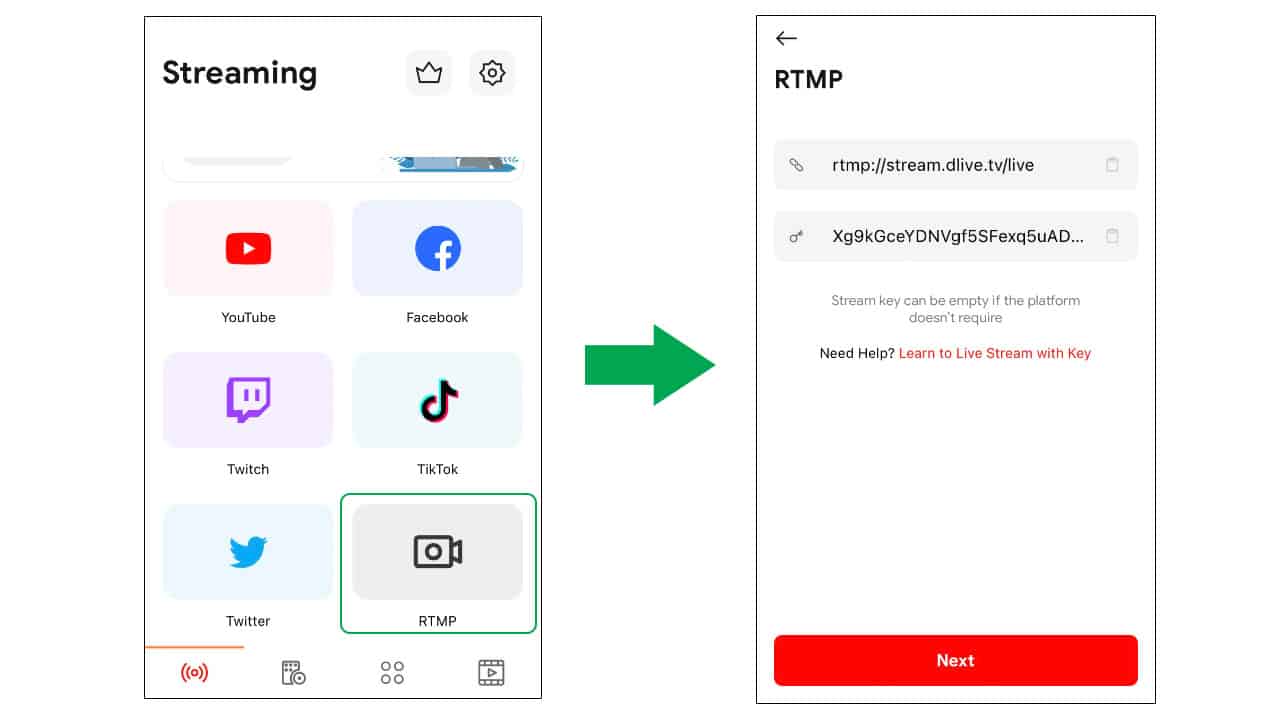 Step 6: Tap on Next to customize your live stream settings like Overlay, Theme, Timestamp, No-copyright music, etc. When finishing, click Start Stream Now to go live on Dlive.
Top Benefits of Using Live Now to Stream on DLive
Live streaming on DLive is made easy and better quality with Live Now. Here are some of the benefits why you should choose our app:
User-Friendly Platform
Our app provides a simple and intuitive interface for everyone even this is your first time streaming. Just a few click and you can live stream on any platforms.
Top-Quality Streaming
Delivering high-quality streaming to your audience is crucial, and we understand that. That's why our app utilizes advanced technology to ensure your viewers enjoy a smooth, uninterrupted streaming experience.
Customizable Options
Every streamer has different preferences when it comes to broadcasting, which is why we offer a range of customizable options, including audio and video quality settings, overlays, timestamps, and no-copyright music, and many more. We also have 4 tips to make your live stream look outstanding and professional, perfect for new streamers.
Affordable Pricing
Our app is budget-friendly, making it an affordable solution for anyone looking to stream on DLive or other platforms. Our pricing plans are competitive and you will get a 50% discount when purchasing a full year plan. Additionally, our multistreaming feature allows you to broadcast your content on various platforms to increase your reach and potential profits.
In short
Besides many streaming platforms out there, DLive offers a unique and interesting community for both streamers and viewers. And our Live Now app provides a seamless, customizable and user-friendly solution for live streaming on this platform. So why not give us a try and start live streaming on DLive with Live Now today? If you have any problems while streaming with Live Now, please leave a comment or email us. We'll reply you as soon as possible.