This post is also available in:

Tiếng Việt (Vietnamese)

日本語 (Japanese)

ไทย (Thai)

Português (Portuguese (Brazil))

हिन्दी (Hindi)

Indonesia (Indonesian)

Русский (Russian)
If you're on the hunt for a way to live stream on YouTube with your iPhone or iPad, look no further. The solution is right at your fingertips, quite literally. Whether you love teaching yoga, cooking up delicious dishes, traveling to exciting places, or have a knack for speaking with viewers, live streaming has become an avenue where you can make money with your passion.
Maybe you already know that it's not easy to live stream as a beginner because you have to buy and prepare a lot of things. But thanks to the development of smartphones and live streaming applications, now you don't need to prepare too many things or buy expensive equipment to start your journey to becoming a streamer. Your trusty iPhone or iPad, with its exceptional cameras and processing power, is your ticket to live streaming career. You can share your travels, reaction videos, tutorials, or any content you can imagine, all in the palm of your hand.
However, the magic doesn't lie solely within your Apple device; it also depends on choosing the right app. Use the Live Now app as a powerful supporter so you can easily live stream on YouTube. Whether indoors or outdoors, the Live Now application combined with your iPhone or iPad will help you live stream in your own way.
Requirements to Live Stream on Youtube with iPhone/iPad
To live stream on YouTube using your iPhone or iPad, you must meet certain conditions:
Channel Verification: You need to have a verified YouTube channel with no previous restrictions or penalties. The verification process is simple and only requires verifying your phone number in your YouTube account settings.
Number of Subscribers: YouTube requires your channel to have a minimum of 50 subscribers to start live streaming. At this time, your channel will have some limitations in terms of features and ability to be recommended to audiences on YouTube. Once you reach the 1,000 subscriber milestone, you will have full access to YouTube's live stream feature on mobile devices.
Adherence to Community Guidelines: Channels that have recently violated YouTube's Community Guidelines or copyright policies may encounter limitations on live streaming. It's crucial to ensure that your channel complies with these guidelines.
Mobile Device Compatibility: Your iOS device must meet the technical prerequisites for live streaming, which is iOS 8 or later. Additionally, you should ensure that the YouTube app is up-to-date and that your device maintains a stable internet connection.
Copyright Compliance: To avoid problems and penalties from YouTube, remember not to use copyrighted music. If you intend to incorporate music into your live streams, consider our 5 tips for selecting suitable and royalty-free music for live streaming.
How to Gain 1,000 Subscribers on YouTube as a Beginner
Undoubtedly, getting 1,000 subscribers on YouTube when you're just starting out can present a formidable challenge. It necessitates an investment of time, dedication, and the consistent creation of engaging content to attain this significant milestone. However, fret not, for we offer a solution that can help you surmount this obstacle and enable you to embark on your live streaming journey with unrestricted access.
With our app, even if your subscriber count is currently at 0, you can fully partake in the advantages of mobile live streaming. This means that your live streams will be recommended to more people, expanding your reach, and they will remain public after the stream concludes. You won't need to wait until you've amassed 1,000 subscribers to commence streaming what you love – you can dive into it right now.
Download Live Now and Configure Your YouTube Channel
Before starting a live stream on YouTube using iPhone/iPad, you must own a Youtube channel. If you don't have one, you'll need to download the YouTube app and go through the process of creating an account, then setting up your channel. Then, remember to verify your YouTube account and wait 24 hours before starting your first live stream.
Next, go to the App Store to download the Live Now app. Then you can proceed to the next steps.
How to Live Stream on Youtube with iPhone/iPad
Before starting your live stream, you need to make sure your iPhone or iPad is fully charged. Adjust the time you live stream appropriately before the battery runs out. Do not charge the battery and live stream at the same time because this poses a risk of fire and explosion, affecting you and the device you use. When you're ready, follow these steps.
Step 1: Launch the Live Now app and tap on the YouTube icon.
Step 2: Sign in to your YouTube account using the Google credentials that you used when creating your channel.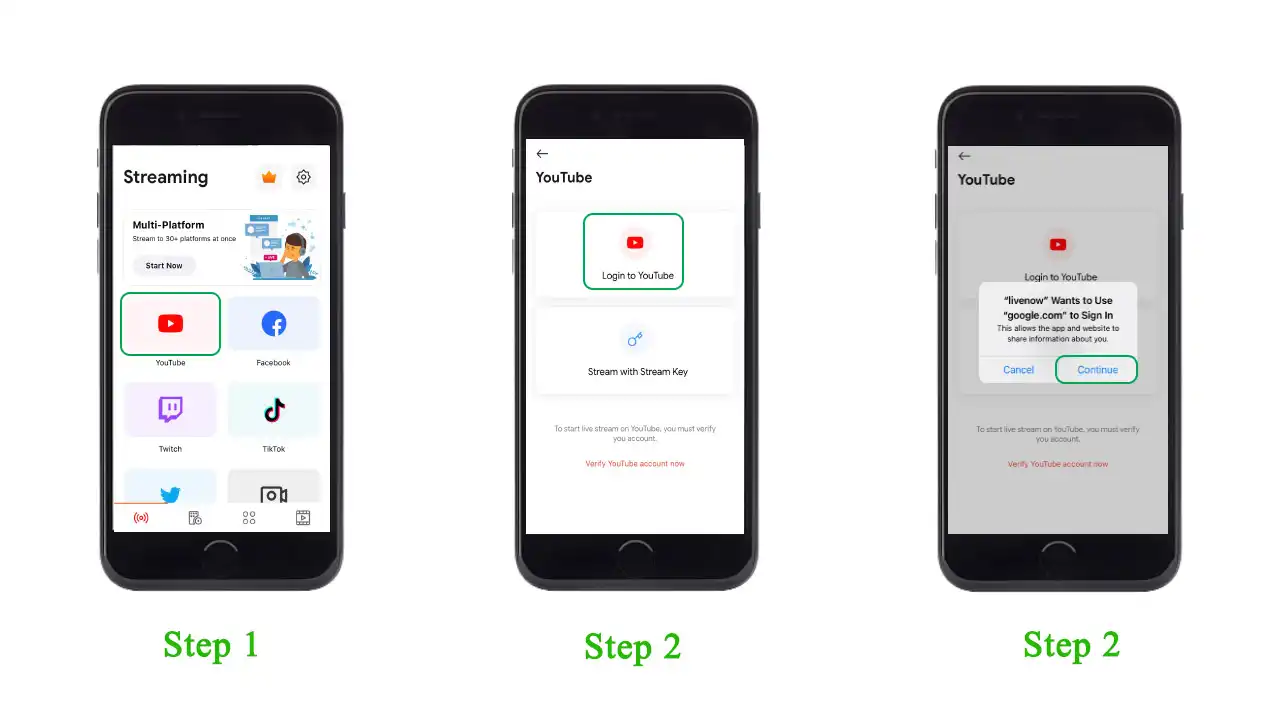 Step 3: Enter the event title and description, which will serve as the title and description of your stream. The default thumbnail for your stream will be your channel avatar. If you wish to use a custom thumbnail, simply click on Custom thumbnail to upload one. Next, select Public and click on Create Event.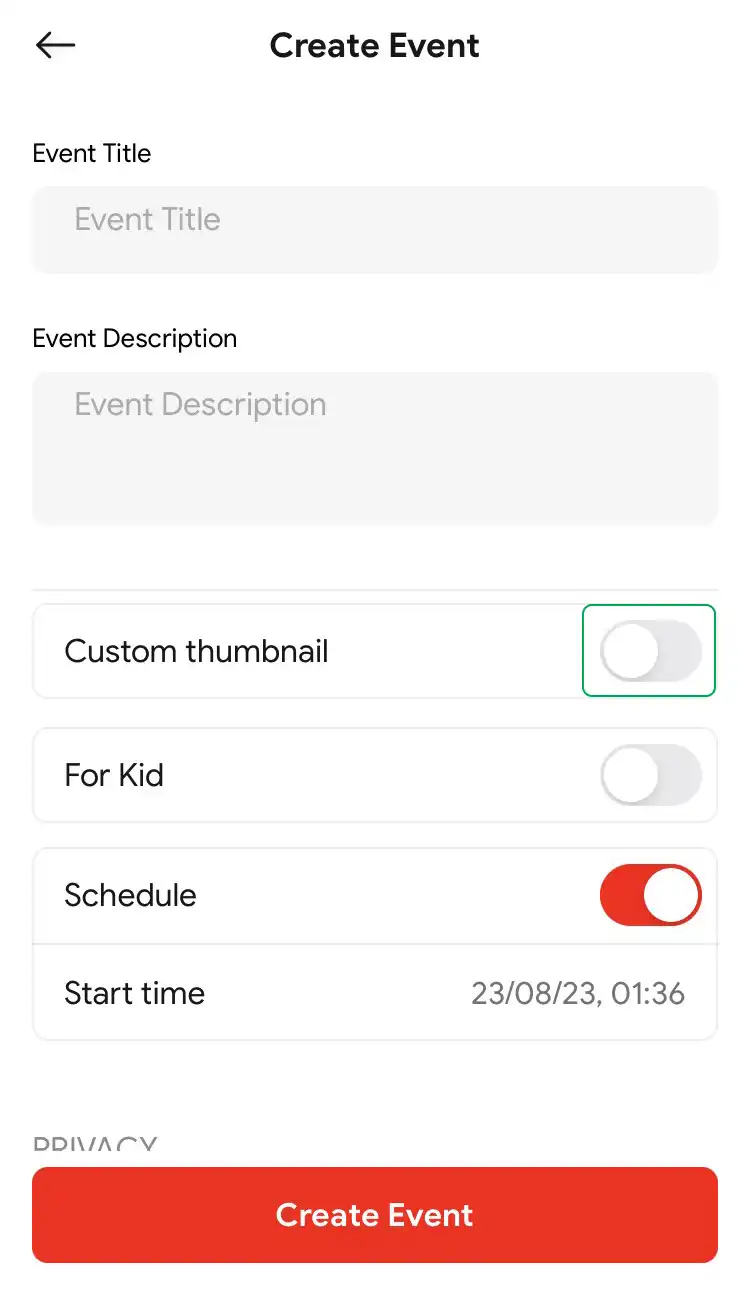 Step 4: Select Stream Camera to use your phone camera as the source of your live stream. Here, you can also fine-tune several critical settings, including video format (portrait/landscape), video quality, frames per second (fps), overlays, and chat (display viewers' comments), among others. Upon completion, tap "Next."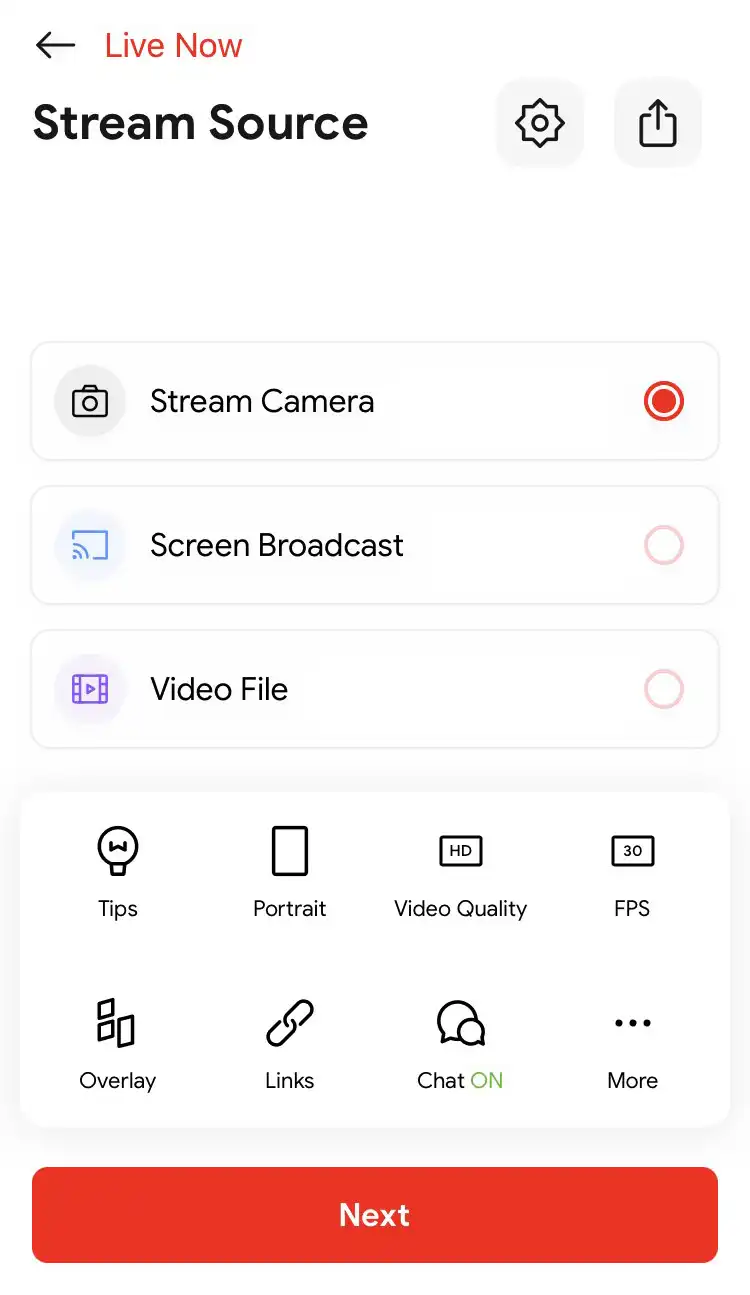 Step 5: Simply click the Play (red button) to start your live stream. However, before going live, there are several icons on the screen you need to know.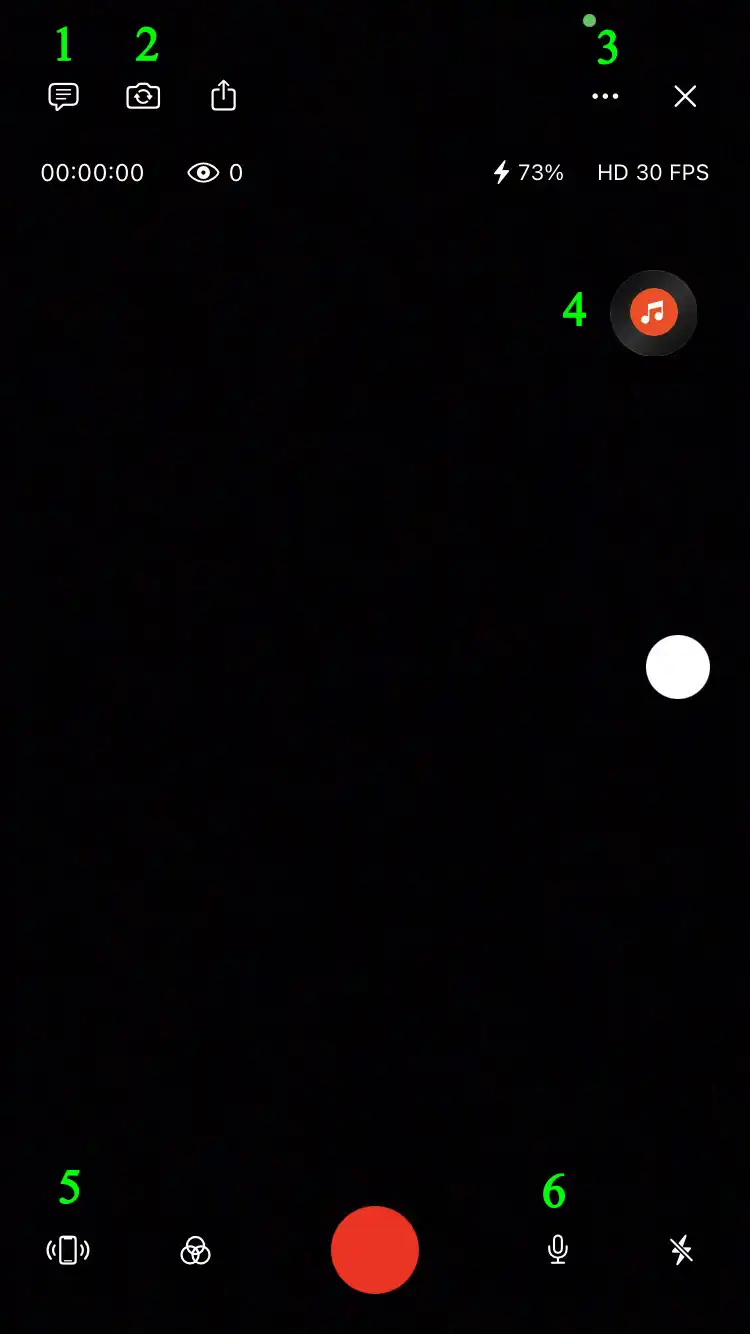 (1) Turn Chat ON/OFF
(2) Change Front Camera/Back Camera
(3) Edit your Overlays
(5) Activate Camera Stabilizer
(6) Turn Microphone ON/OFF
This is all we want to share with you in this article. Now, fully charge your device, prepare your content, live stream script and start your broadcast on YouTube using iPhone/iPad. Wishing you a happy and successful live stream!