This post is also available in:

Tiếng Việt (Vietnamese)

日本語 (Japanese)

ไทย (Thai)

Português (Portuguese (Brazil))

हिन्दी (Hindi)

Indonesia (Indonesian)

Русский (Russian)
Telegram is a cloud-based instant messaging app that was founded in 2013 by brothers Pavel and Nikolai Durov. It allows users to send messages, make video calls, and share files and media. Recently, Telegram has made the Streaming feature for channels and it is well-received by over 500 million active users worldwide as of April 2021. If you're looking for a way to live stream on Telegram, this article will lend you a hand.
Notes
To create a live stream on Telegram, you must be either the owner or admin of the channel or group.
Please note that live streaming is not available on the Telegram app for Android. It is suggested to use the Telegram desktop app or iOS version for the best streaming experience.
How to Live Stream on Telegram
For the desktop app:
First, click the setting icon on the top left and choose to create a new Telegram channel or group if you don't have one.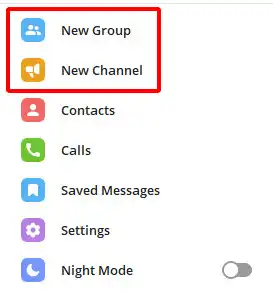 In the channel/group, click the Chat box icon on the top right and choose "Stream with".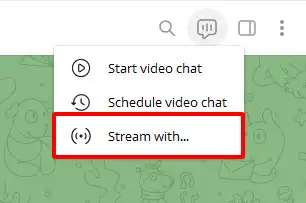 Copy the Server URL and Stream Key.
Open Live Now app, tap on the RTMP and paste the copied information into two corresponding fields.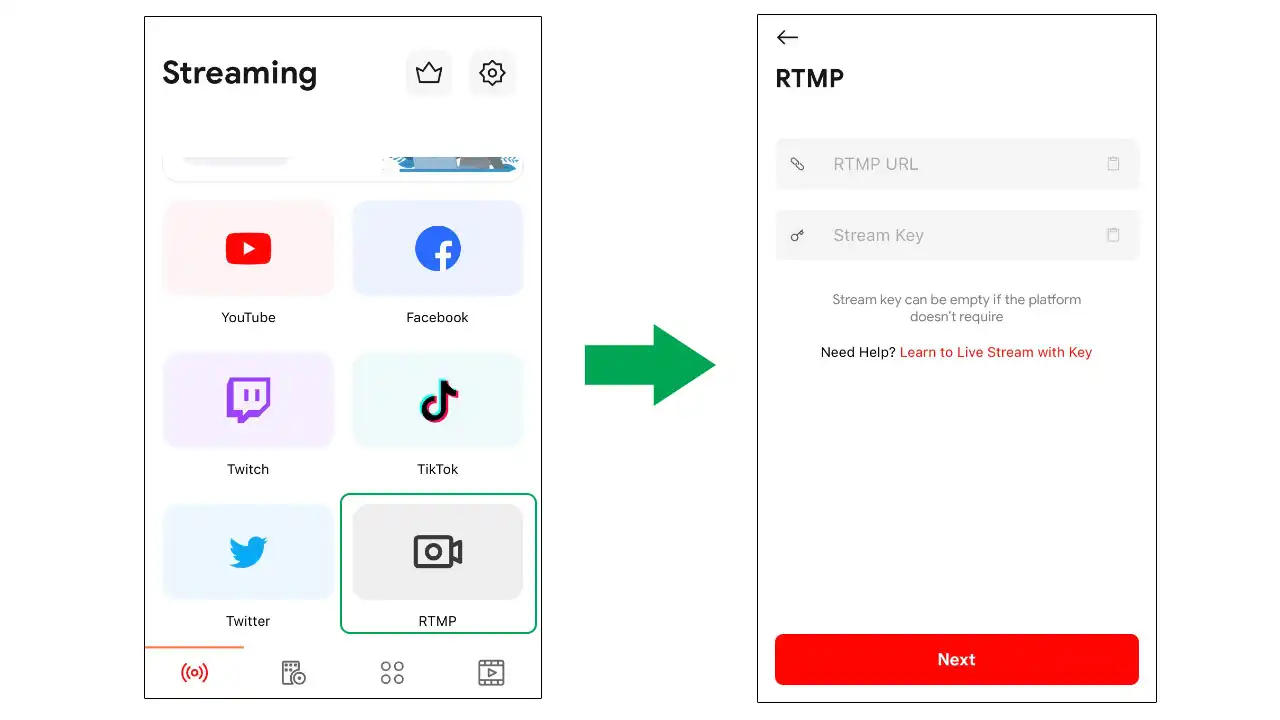 Click Next to go live on our app. Then you return to where you copy the Server URL and Stream Key on Telegram and click "Start Streaming".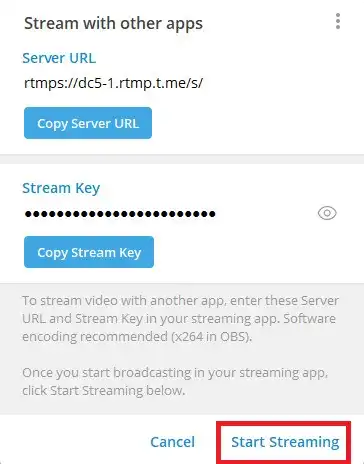 For IOS app:
Similarly, enter your channel/group and click the avatar on the top right of the app to open the settings.
Click Video chat or Live stream > Stream with.
Copy the Server URL and Stream Key.
Open Live Now app, tap on the RTMP and enter the obtained information into the appropriate fields.
Click Next to go live on our app.
Why Should You Use Live Now to Live Stream on Telegram?
Despite Telegram is a popular messaging app that have millions of users, its live streaming capabilities are somewhat limited, making it challenging for users to broadcast their live content. Fortunately, Live Now app is here to solve this problem.
Easy to Use
One of the main benefits of using Live Now app to live stream on Telegram is our user-friendly interface. The app is easy to navigate, and your can quickly start streaming without any technical knowledge. Additionally, our app supports multistream, an excellent choice if you want to reach a broader audience and boost your profits in multiple platforms.
High-Quality Streams
Our app is designed to provide high-quality live streams. It uses advanced streaming technology to ensure that your audience can watch your live stream without lagging. This feature is particularly important for users who are broadcasting live events, as they want to ensure that their audience can enjoy a smooth viewing experience.
Customizable Settings
We allows users to customize their streaming settings to suit their needs. You can adjust your video and audio quality, as well as add overlay, timestamp, no-copyright music and many more. This level of customization ensures that you can broadcast your content in the highest quality possible. We also have a setting that helps you save your live stream video to back up when technical problems happen.
Low-Cost Solution
Live Now app is a cost-effective solution for users who want to live stream on Telegram or other platforms. We offer affordable pricing plans, making it accessible to a wide range of users. So what are you waiting for? Download our app and start streaming right now! And you will love it.