Gone are the days of being confined to a single live streaming platform. With the rise of mobile live streaming, creators now have the freedom to go live wherever their creativity takes them. While native apps like Facebook, YouTube, and Instagram offer convenient mobile streaming options, their limitations become apparent when you want to live stream and reach a wider audience across multiple platforms.
Building a channel in the first place requires expanding your reach and connecting with your target audience wherever they may be. That's where the true power of multistreaming comes into play. By utilizing the right tools and strategies, you can effortlessly transcend platform boundaries and bring your content to a diverse range of viewers across different platforms.
That's why in this article we introduce you OneStream, the leading multistreaming platform. With its robust features, you can go live or schedule recorded videos to over 40 social media platforms at the same time. Moreover, our Live Now app brings the convenience of mobile streaming to OneStream. With Live Now and OneStream together, you can live stream effortlessly to multiple platforms with your phone easily.
What is OneStream Live?
OneStream is a popular live streaming and scheduling platform that allows users to stream their content to multiple social media platforms simultaneously. With OneStream, you can also schedule and automate your live streams, making it convenient to reach your audience without the need for manual streaming. It supports popular platforms like Facebook, YouTube, LinkedIn, and more, enabling you to expand your reach and engage with a wider audience.
Setting Up Your OneStream Account to Live Stream on Multiple Platforms
Step 1: Sign up for OneStream
Visit the OneStream official website and click on the "Sign Up" button to create your account.

Fill in the required information, including your name, email address, and password. Once completed, you'll receive a confirmation email to verify your account.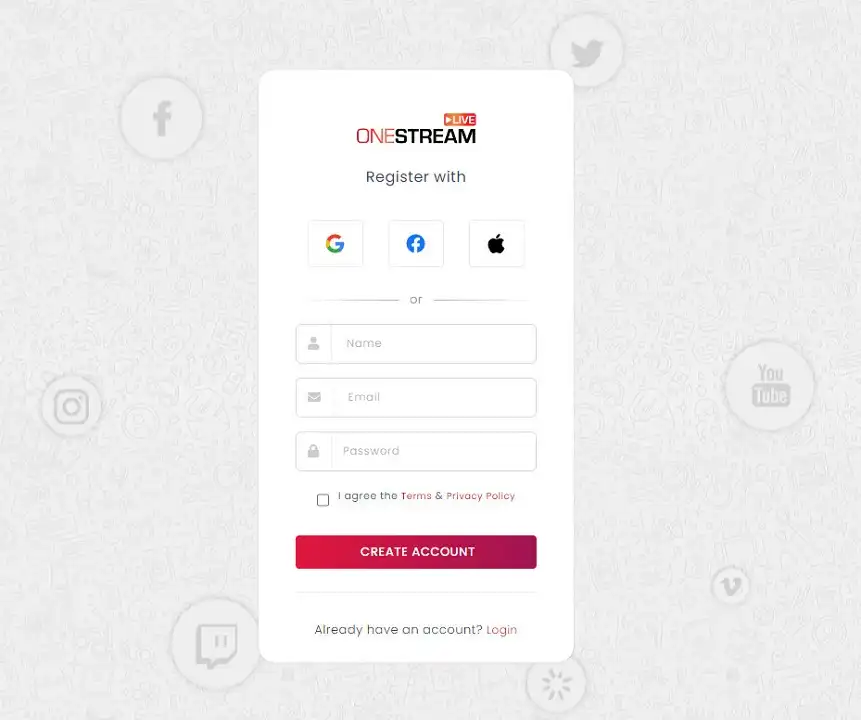 Step 2: Connect Your Social Media Accounts
After signing up, log in to your OneStream account and navigate to the "Accounts" section. Here, you can connect your social media accounts, such as Facebook, YouTube, Twitch, and more. Simply click on the respective platform icons and follow the prompts to authorize OneStream to access your accounts.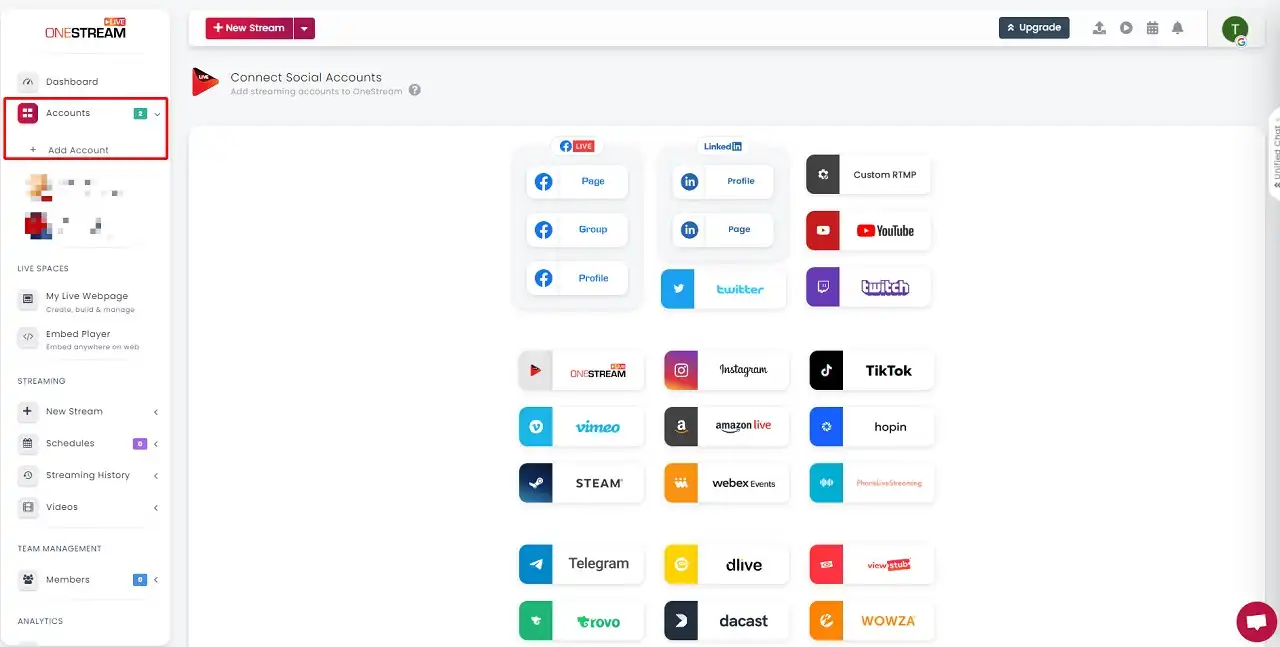 Step 3: Copy Your Stream URL and Stream Key
To enable Live Now integration with OneStream, you'll need to copy your Stream URL and Stream Key from OneStream. First, click on "New Stream" then "Third-party RTMP Source".

In the RTMP source, you'll find the unique stream URL and stream key that will allow Live Now to connect with OneStream.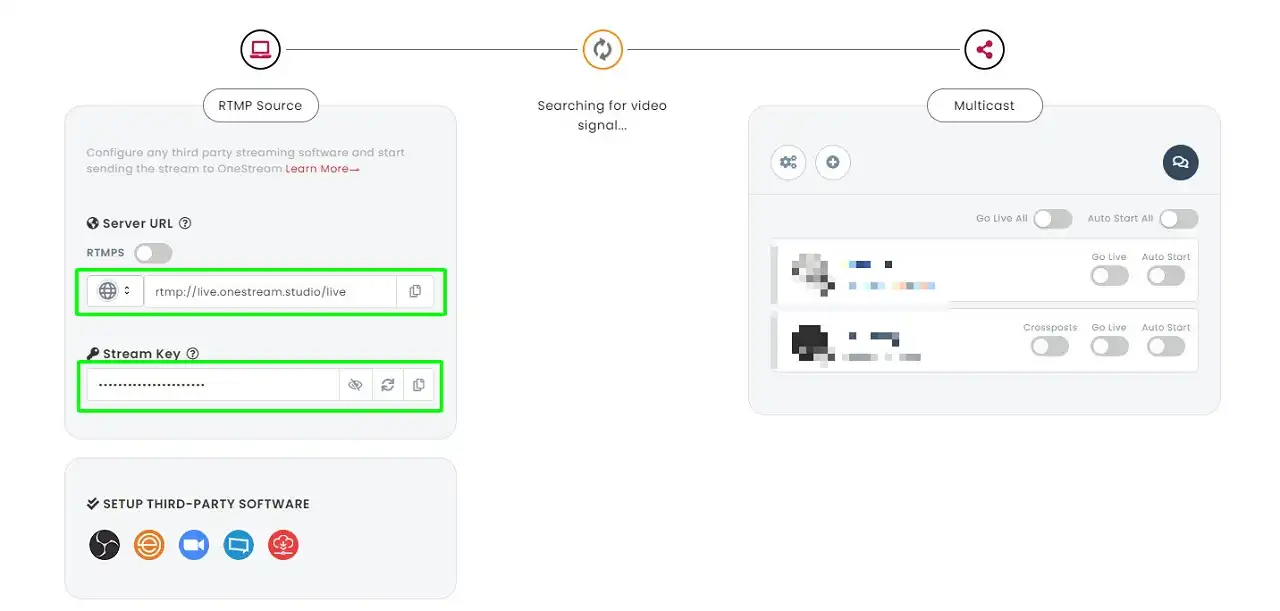 Connect Live Now with OneStream
To harness the power of OneStream with Live Now, follow these steps:
Step 1: Open the Live Now app on your phone and click on RTMP.
Step 2: Paste the Stream URL and Stream Key into two corresponding fields. And click Next.
Step 3: Configure the settings including video quality, FPS, theme, etc., to suit your streaming style. After finishing, click on Start Stream Now > Start Broadcast.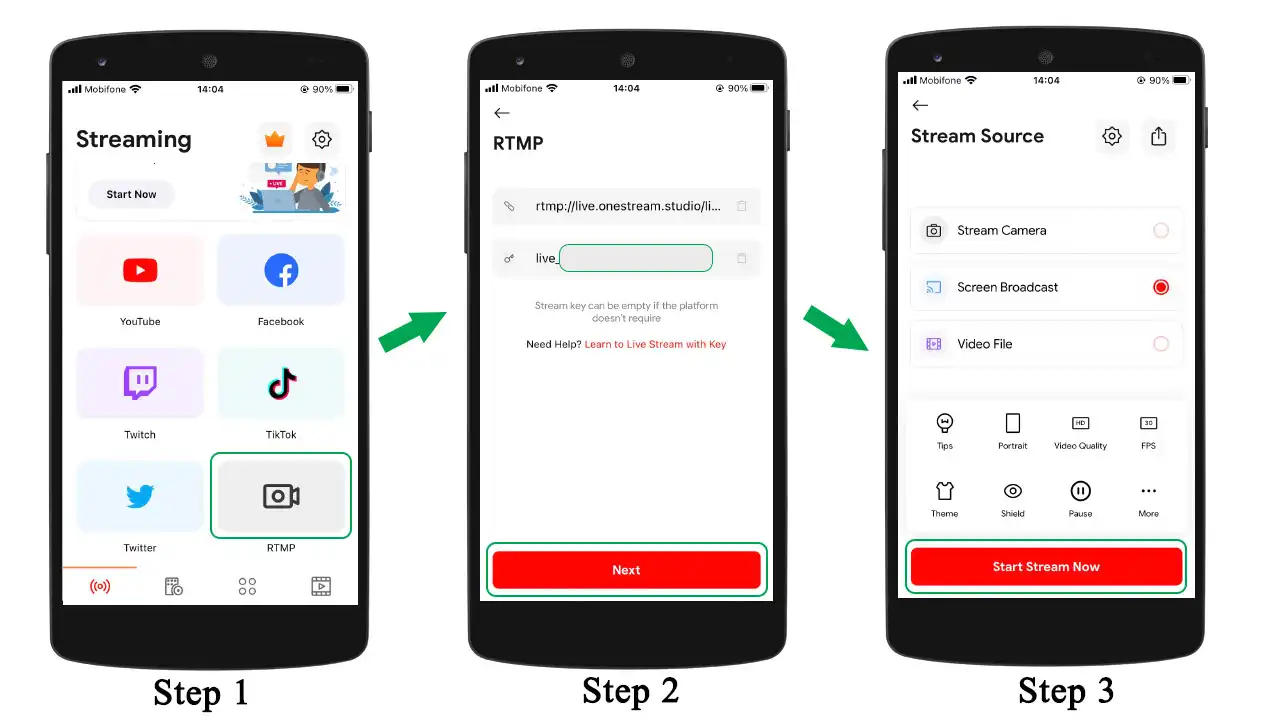 If this is your 1st time using Live Now, you can check our 4 tips to make your live stream outstanding and professional together with a guide to choose free music for your live stream.
Step 4: Return to OneStream Dashboard. Now you will see that OneStream is receiving video signal from Live Now. Click "Go Live" on the social accounts you want to live stream and start your streaming session.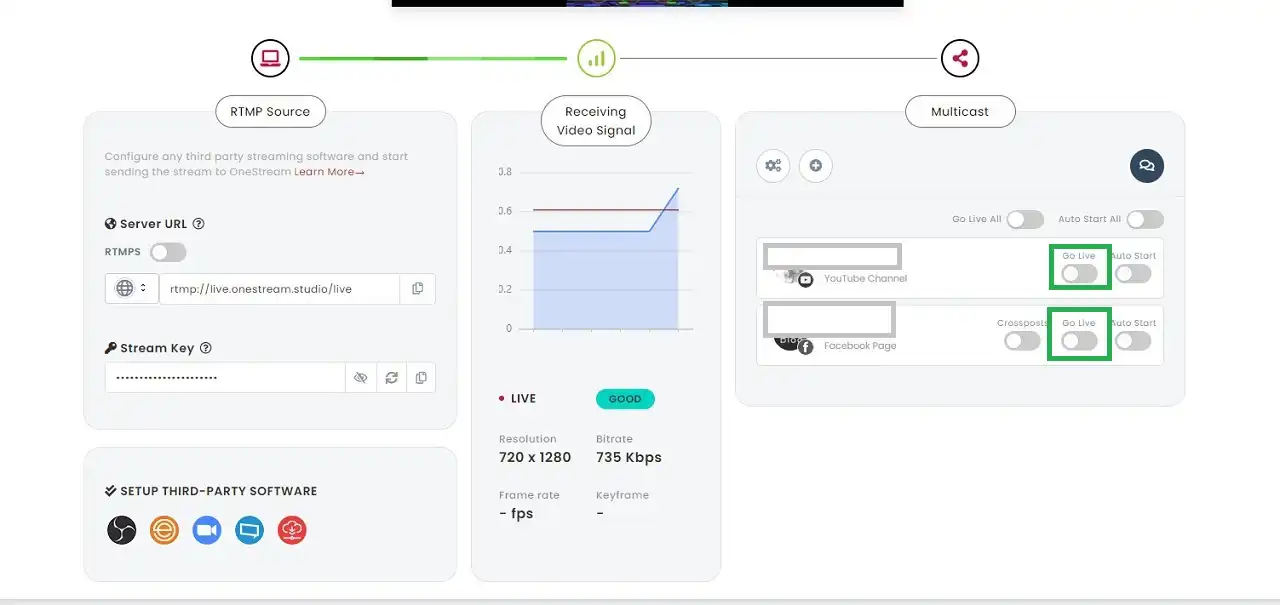 With Live Now and OneStream working together, you can enjoy the convenience of multistreaming from your mobile device, expanding your reach and engaging with audiences across multiple platforms simultaneously. If you're looking for a new way to attract more fans to your channel, multistreaming is definitely a powerful tool to help you do that. So let's try to live stream on multiple platforms now with our Live Now app and OneStream.