This post is also available in:

Tiếng Việt (Vietnamese)

日本語 (Japanese)

ไทย (Thai)

Português (Portuguese (Brazil))

हिन्दी (Hindi)

Indonesia (Indonesian)

Русский (Russian)
In today's rapidly evolving world of content creation, reaching a wider audience is the key to success. To achieve this important key, you need to bring your content and live streams on as many streaming platforms as possible. If you have trouble doing this, let Live Now and Restream give you a hand.
Restream is a powerful multi-streaming platform that helps content creators easily broadcast live video streams to more than 30 platforms at the same time. Our Live Now app is packed with advanced features to enhance your viewers' experience significantly. With our combined power, you can easily reach potential audiences on popular social media, video sharing, and gaming platforms like Facebook, YouTube, Twitch, TikTok, and more. Just a few clicks and you'll have more opportunities to make them your loyal fans.
Advanced Features of Restream and Live Now
The outstanding features of Restream and Live Now come from the fact that our application is specifically designed to enhance the live streaming experience not only for streamers but also for their audiences. In particular, both applications are simplified so that whether you are a seasoned streamer or a beginner, you can easily use them.
Custom RTMP: Want to stream to a custom destination that has RTMP supported? We has you covered.
Overlay: Add a professional touch to your streams by incorporating graphics, logos, text overlays, and music.
Multistreaming: Broadcast your content to multiple streaming platforms simultaneously, ensuring maximum reach.
Free Version: Both Restream and Live Now have free versions for you to try as long as you want. These free versions provide almost all features of the app, except for some advanced features available in the paid plans.
Sign Up via Live Now App and Claim $10 Free Credit
Are you ready? First, sign up for Restream through our exclusive referral link here to receive a $10 credit absolutely free right now. For those who are new to Restream, follow these steps below to sign up your account and claim $10 free credits.
Step 1: Click the referral link here https://livenow.one/recommends/restream/. If you do it right, you will see the top up that says Welcome to Restream! As a referral bonus, you'll receive $10 in credits when you sign up.
Step 2: Tap on Sign up today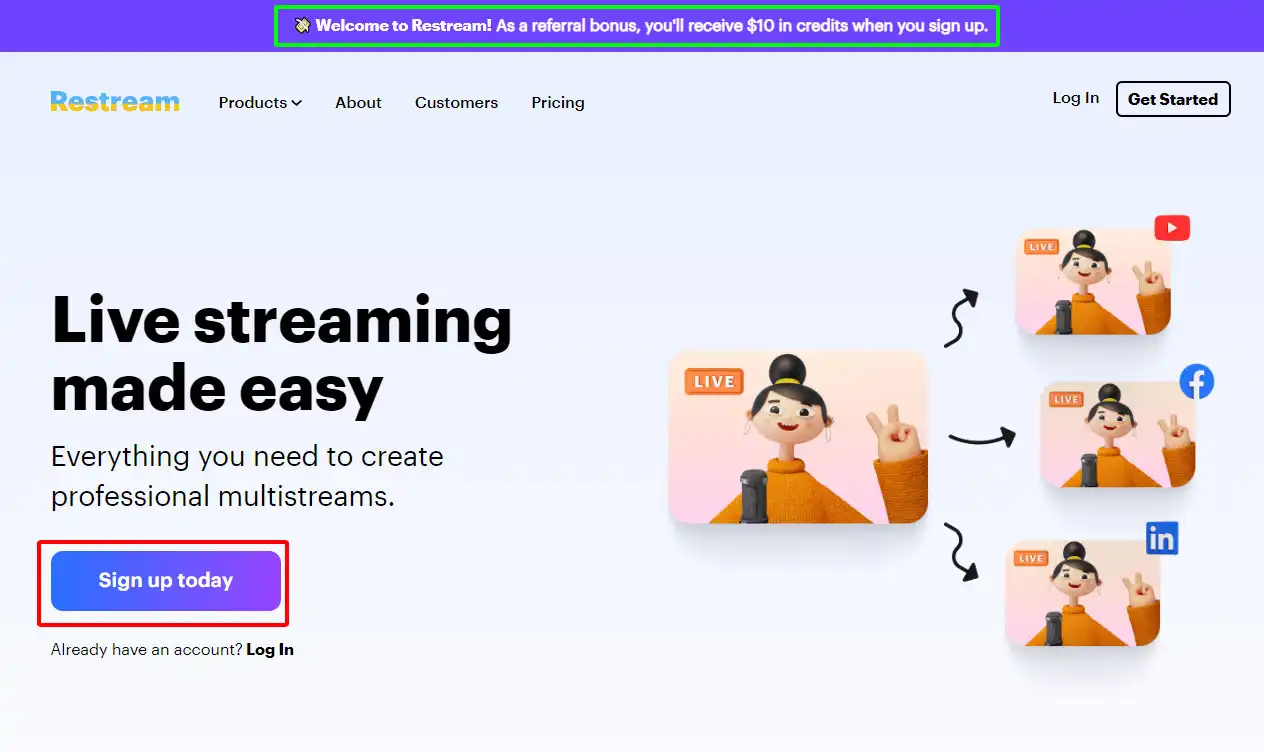 Step 3: Choose the Basic account to start.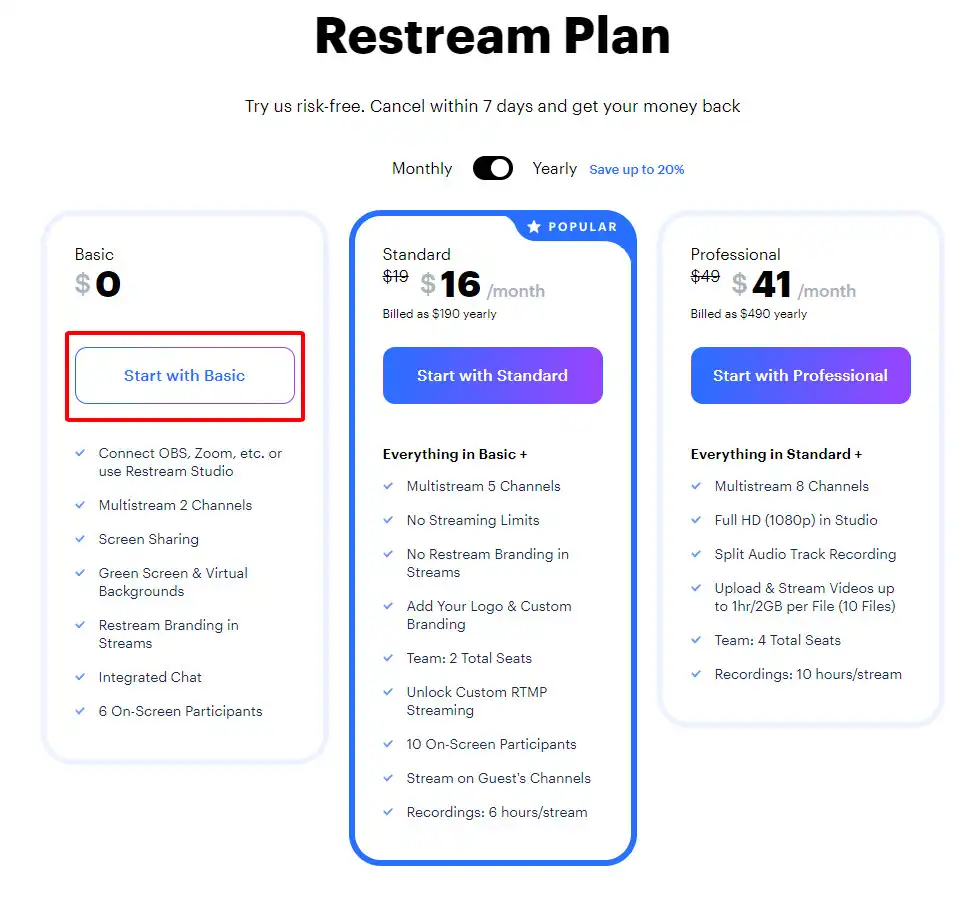 Step 4: Enter your email, create a password, and click Sign Up. Or just simply connect with your Google account.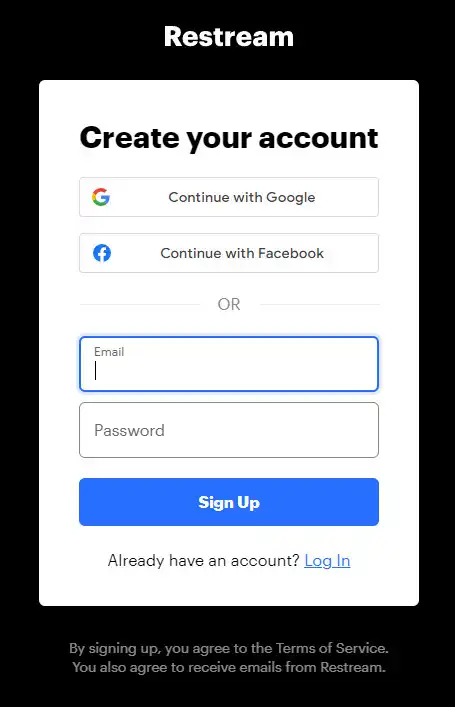 With just 4 quick steps above, you now have a Restream account. In the basic account, you can live stream on 2 platforms simultaneously. To do that, after logging into your account, click Add Destination.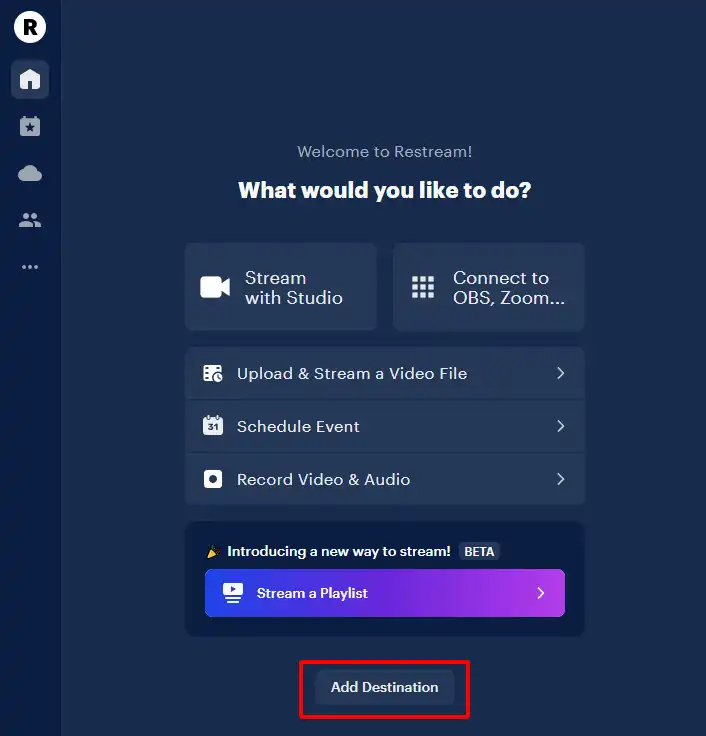 Choose 2 streaming platforms you want to multistream and follow the connecting steps to allow Restream to manage your accounts.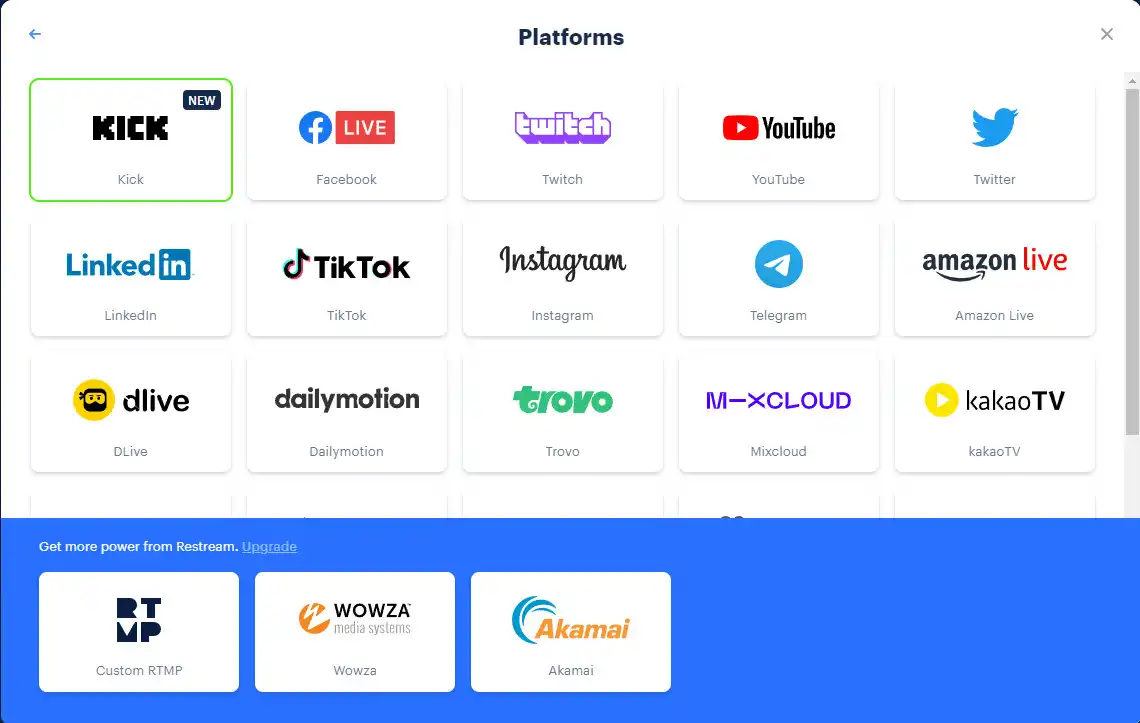 How to Connect Restream with Live Now and Start Streaming
Now that you have already created a Restream account and connect it with the platforms you like. Let's start streaming your content, increasing your audience reach, and driving engagement with Live Now.
Step 1: Download Live Now app via App Store or Google Play.
Step 2: Open Live Now and click Start Now.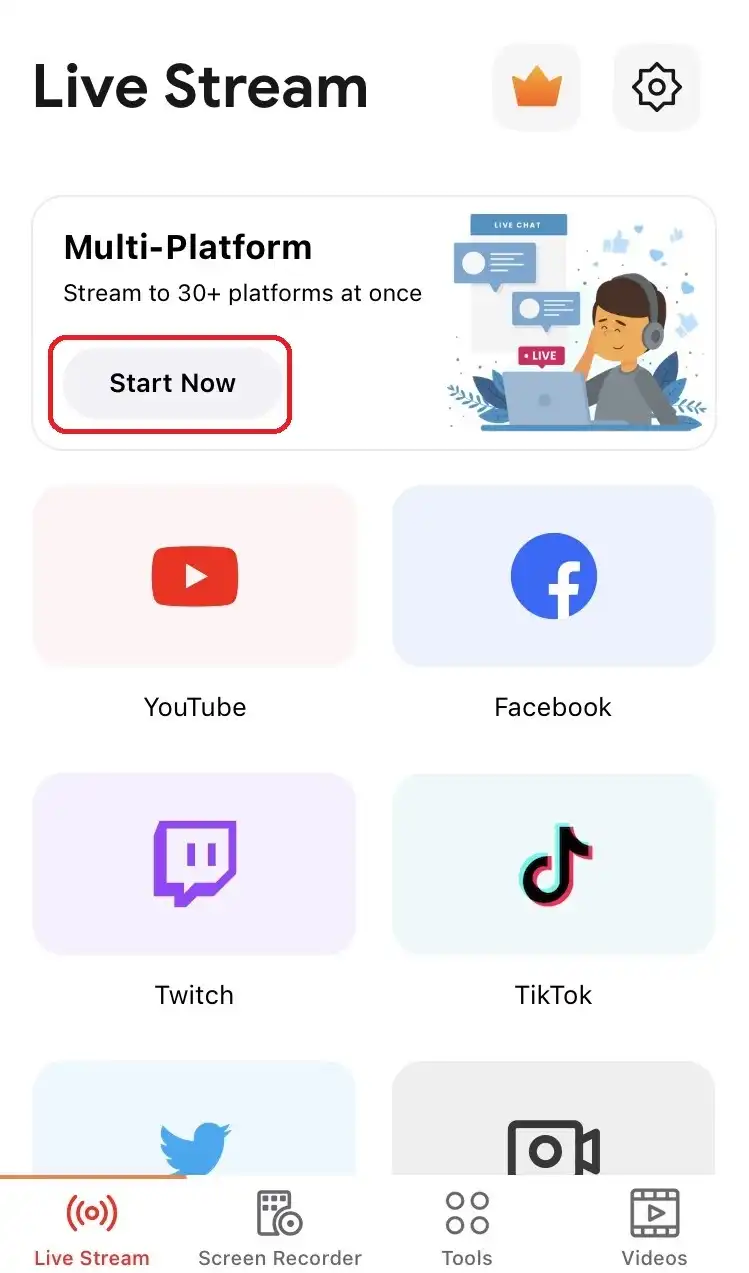 Step 3: Login to your Restream account.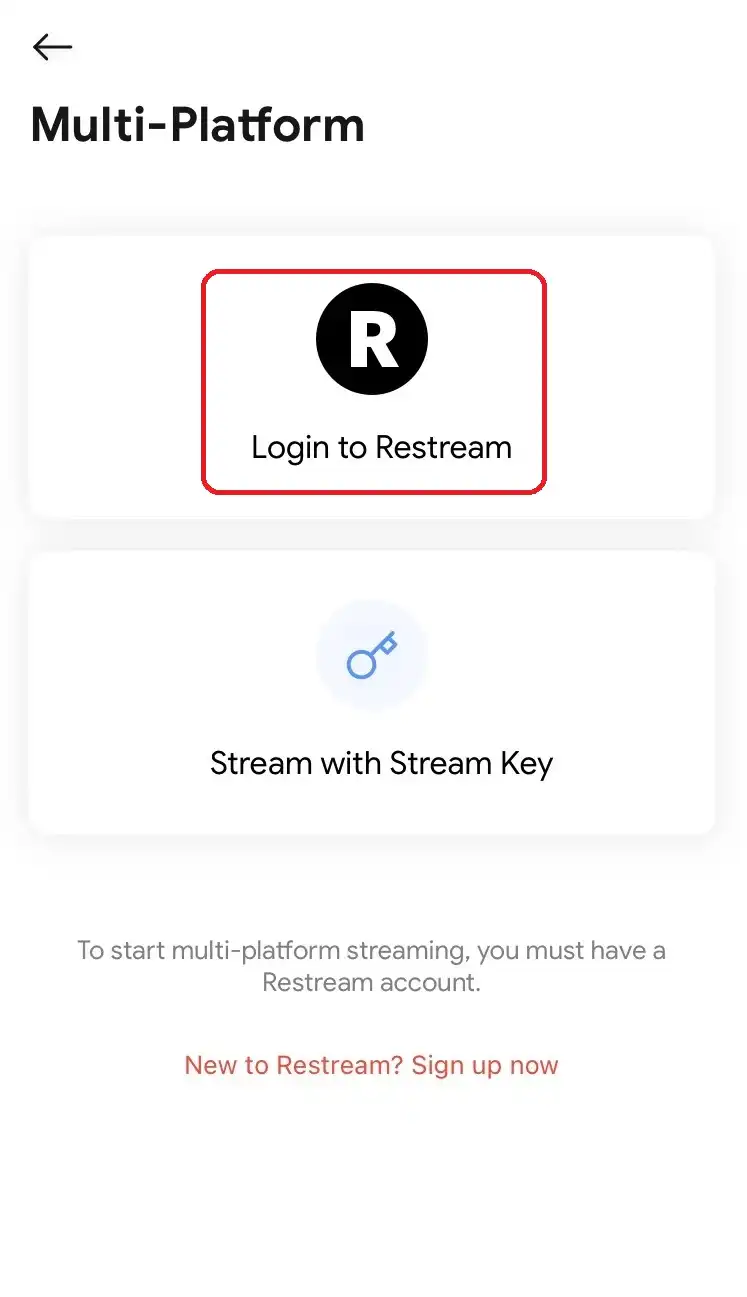 Step 4: Select 1 out of 3 types of live streaming on Live Now. They include Live Camera (Live Streaming with your phone camera), Screen Broadcast (i.e. game streaming via iOS or Android), and Video File (pre-recorded video streaming). Then click Next and now you can start your live streaming session.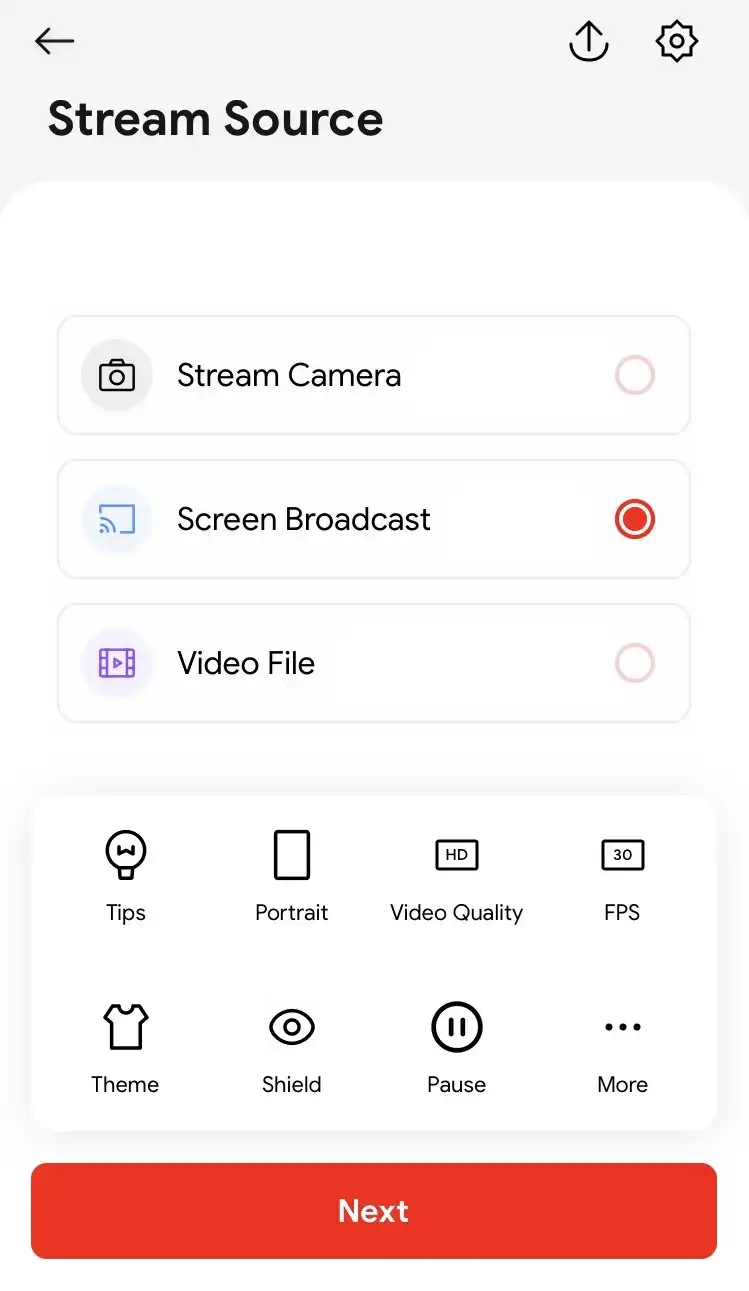 With each type, Live Now provides different features to make your streaming session look outstanding and professional. So after trying the app, please read our tips on screen broadcast or live camera for better streaming experiences.
Sometimes, if you encounter errors when logging to Restream, you can use the second method below to connect via Stream Key.
How to Get Restream Stream Key
For those who don't know, a stream key is a unique alphanumeric code that serves as a secure link between your streaming software or app and the platform where you intend to broadcast your live stream. In the case of Restream and Live Now, the stream key acts as a secret handshake that authorizes us to send your video and audio data directly back and forth to each other. And here is how to get the Restream stream key.
Step 1: Log in your account on the Restream website.
Step 2: Press your three dots icon on the left menu of the screen and tap on Settings.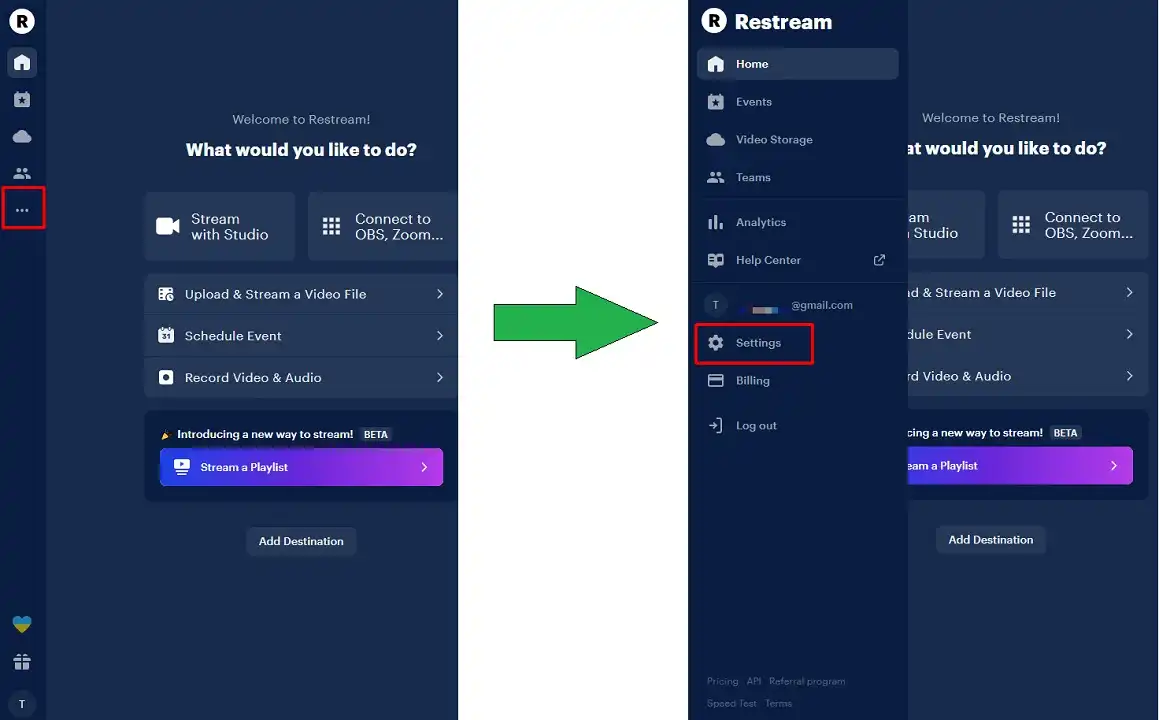 Step 3: Click Streaming Setup. Then copy RTMP URL and Stream Key.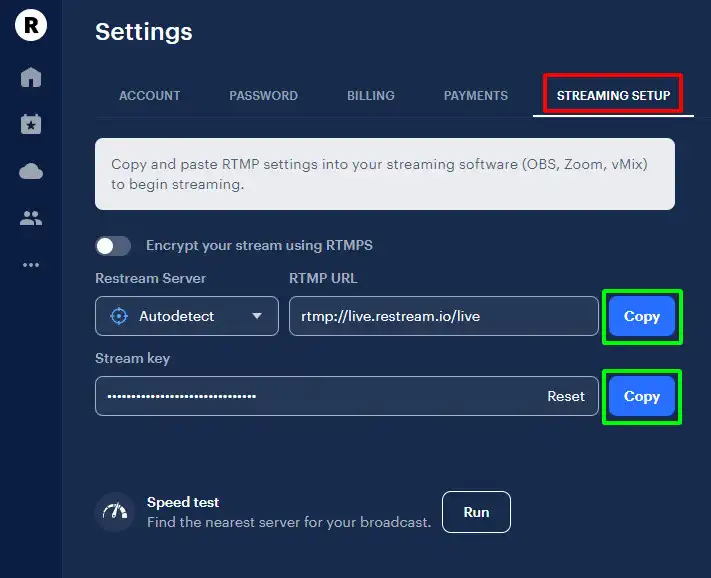 Step 4: Open Live Now > Start Now > Stream with Stream Key.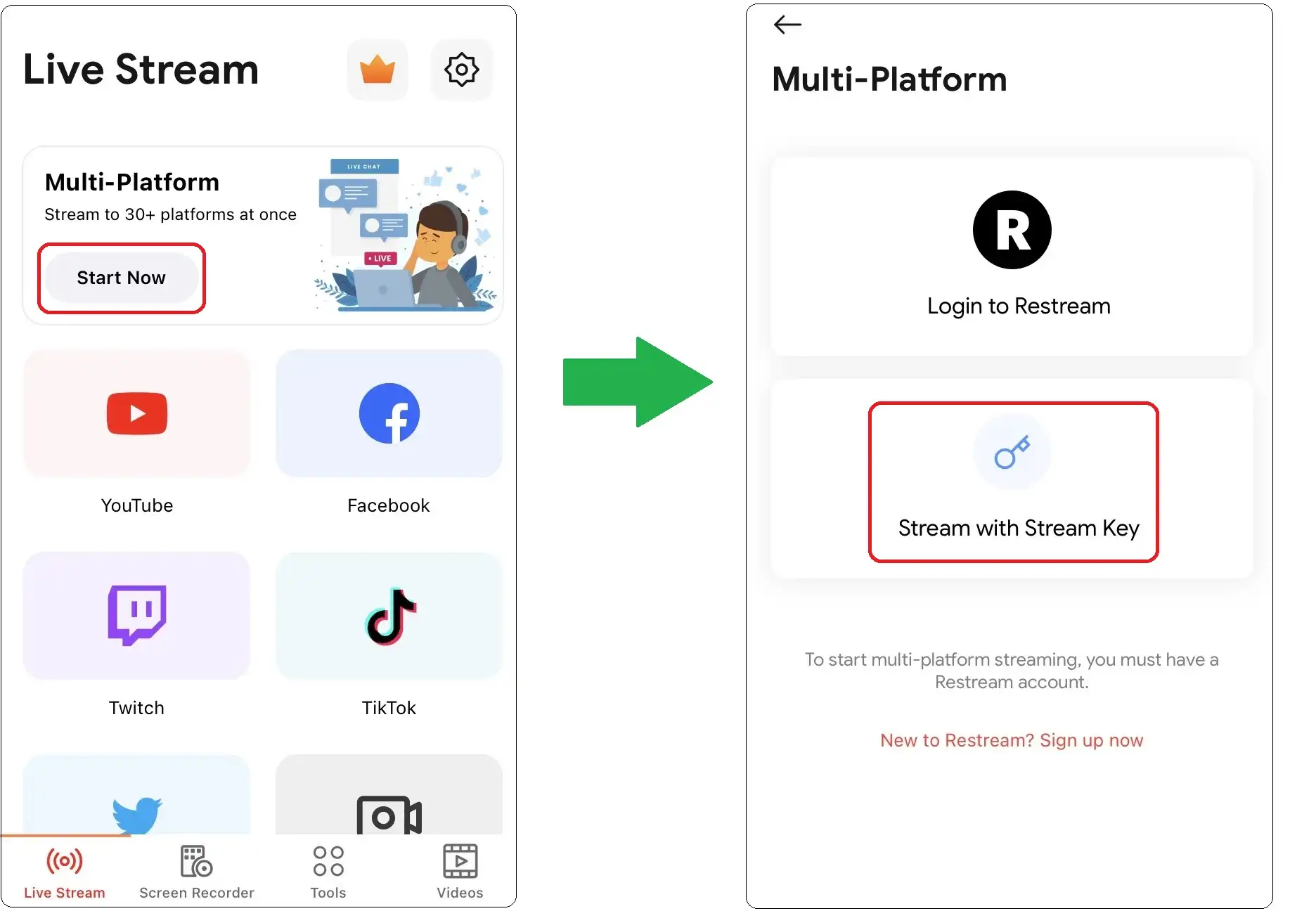 Step 5: Paste the RTMP URL and Stream Key to two corresponding fields like the picture below. Then click Next to choose the type of live streaming you want and start your streaming session.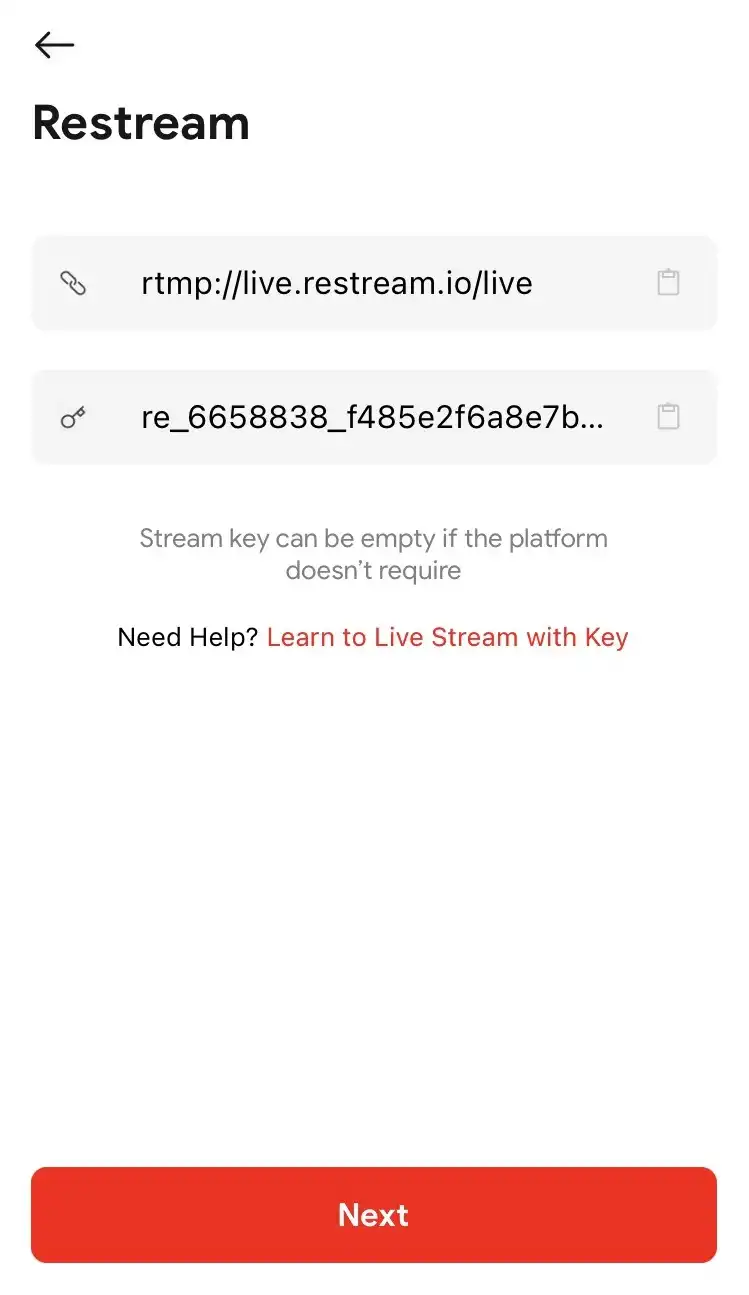 If you meet any difficulties or have questions while connecting or using Restream, don't hesitate to drop a comment below or send us a message via our email. We'll support you as soon as possible.