This post is also available in:

Tiếng Việt (Vietnamese)

日本語 (Japanese)

ไทย (Thai)

Português (Portuguese (Brazil))

हिन्दी (Hindi)

Indonesia (Indonesian)

Русский (Russian)
Although Amazon is the largest shopping and selling platform in the world today, they still do not rest on their laurels. To keep up with the new trend of the times, Amazon has developed Amazon Live for their sellers to live stream and sell their products. This is a great opportunity for you to connect, sell and promote your brand to millions of customers on Amazon. In this article, we will show you how to broadcast on Amazon using our app.
Requirements
To start live streaming on Amazon Live, you must meet certain eligibility criteria because it is available only to specific groups of users, including:
Influencers in the Amazon Influencer Program with an active Amazon Influencer storefront.
Amazon sellers who use the Seller Central platform.
Amazon vendors with an approved Amazon Store in the advertising console.
In addition to meeting 1 of the 3 criteria above, you must also register your trademark at the Amazon Brand Registry and download the iOS-only Amazon Live Creator app.
How to Broadcast on Amazon Live with Live Now
To start the live stream, first open your Amazon Live Creator app and log in with your Seller Central or Amazon Brand Registry account. Select a title, thumbnail, and decide which products you want to feature on your live stream.
Once you have prepared your live stream, go to the stream Settings and select "Phone camera" as your video source. You will be redirected to a new screen with additional Video source settings.
Ensure that "Phone camera" is still selected, then click on the "Get URL and stream key" button. This will prompt Amazon to generate an RTMP URL and stream key unique to your stream. Remember to keep this information secret and not share it with anyone.
After you receive your RTMP URL and stream key, open Live Now app, tap on RTMP and enter them into the appropriate fields. Finally, click "Next" to start your live stream.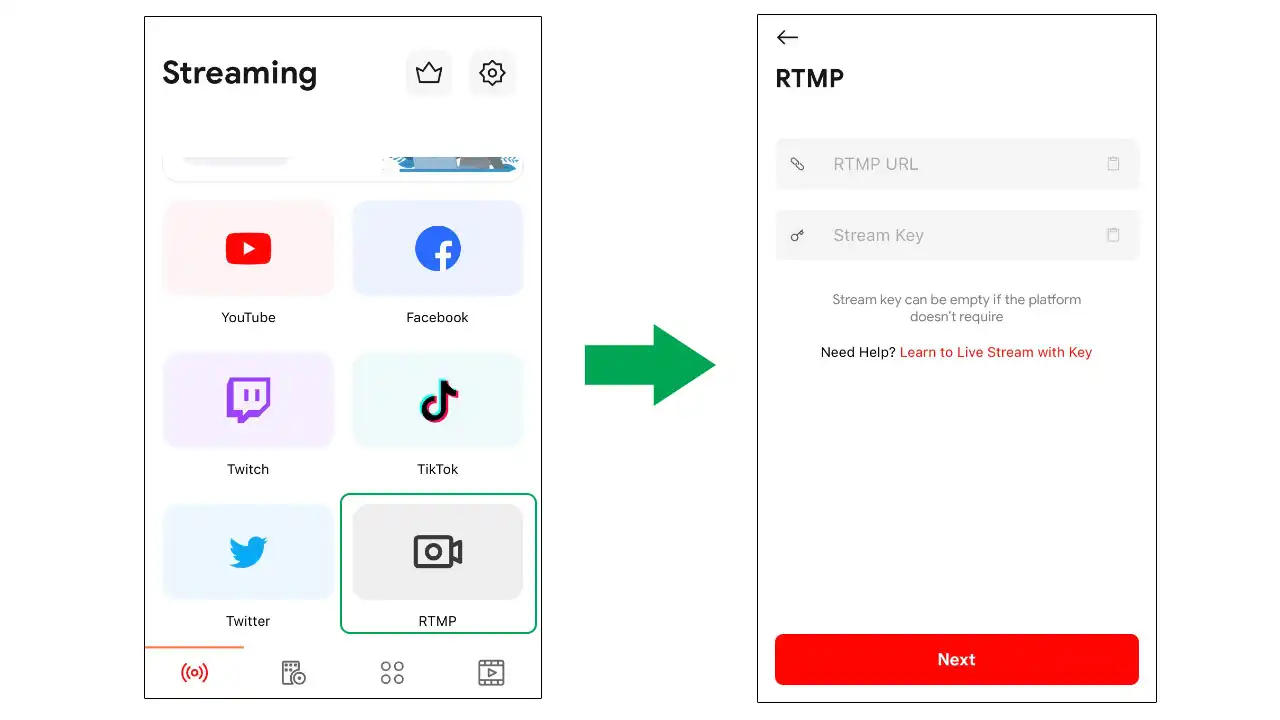 Benefits of Amazon Live
Amazon is no doubt the largest e-commerce platform in the world right now. When broadcasting on Amazon, you will receive many benefits such as:
Increase Sales: You can showcase your products more detailed and engaging when live streaming, potentially increasing your sales and revenue than just posting your products on Amazon like everyone else does.
Access to a Massive Market: Nearly 200 million customers visit and view products monthly on Amazon (data for 2022). This is an extremely attractive market, allowing you to reach potential customers faster and more than traditional marketing methods.
Improve Brand Recognition: As you can see, it is not easy to live stream and sell a product on Amazon Live. So, if you can do it, it is a clear proof that your product has been recognized and trademarked by Amazon, increasing your brand awareness and product credibility in the eyes of customers.
Amazon Live is absolutely a great tool for you to use and sell products on Amazon. Although the requirements are a bit more difficult than other e-commerce platforms, you can connect and promote your products to an extremely large number of customers. So, if you're already an Amazon seller or looking for a new way to sell and promote your products, try broadcasting on Amazon today with our Live Now app.